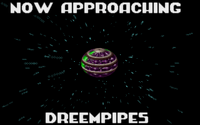 Dreempipes is the third and final planet in the episode The Chase Is On in the original Jazz Jackrabbit game.
This is the fuel refinery for Devan's destroyers! The entire planet is covered with purple goo, where Jazz has to swim through it in order to destroy Devan's handiwork.
To raise or lower the level of the goo, Jazz have to shoot red switches.
Ad blocker interference detected!
Wikia is a free-to-use site that makes money from advertising. We have a modified experience for viewers using ad blockers

Wikia is not accessible if you've made further modifications. Remove the custom ad blocker rule(s) and the page will load as expected.